BALLADEERS BULLETIN - July 2010
G'day everyone.
I hope this finds you all well. We have been busy music wise this year, touring for 3 months after Tamworth with Ricky Shipp and Jim Strohfeld. Thankyou to all who helped us along the way & supported the shows. We couldn't have done it without you. Thanks also to Dianne Kelly, a friend from Wee Waa who came & looked after the boys during the shows so Lyn could play Bass. It all worked out well but it was good to be home.
I played at the Easter Heritage Festival & then at the Broxburn Bash on the May long weekend. Thanks to Anita Ree, Dan Manning, Cheryl & Bobby Easter for making that a great little show. Shippy & I then went up to the Bouldy Bash & the following weekend Lyn & I went to the Bundaberg Aussie Country Muster. Both festivals were bigger & better than last year, congratulations to the organisers. Its good to see more support for our music.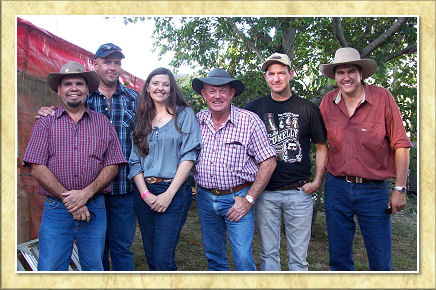 L-R: Ricky Shipp, Dan Manning, Anita Ree, Bob Easter, Clinton Ireland and Jeff Brown
Well by the time this comes out we will well & truly be on our way up the track with Jammo & Alisha. Jammo has aptly named our tour the "Boundary Riders Tour" as we are going around the boundary of Australia playing in halls, stations & parks. We will be back at the end of August in time for the Stanthorpe Stampede and Nanango muster. I plan to do the Harvest after that so unfortunately will miss Widgee & The Gidgee Coals this year.
All the details of our tour are in the Gig Guide, we may see some of you along the way.

See you when I'm lookin at you,
Jeff Brown.



BALLADEERS BULLETIN - January 2010
G'day there folks.

Well here we are once again gearing up for another year. Over the past couple of months I have been residing in the Mack Motel out on the Grain Harvest and now looking forward to concentrating on some music again. Last October I was very honoured to perform at the Slim Dusty Memorial Concert in Kempsey. It was a great night with a crowd of over 600 people in attendance and it was just great to be a part of the show.
My main concerts at this year's Tamworth Festival will be held at the Frog and Toad function centre. It's a really good venue for sound, not to mention the air conditioning!! I am also doing a few spots with Sam Smyth and the Bush Poets throughout the week at the Tamworth City Bowling Club, see the gig guide for all the details.

We have organised our annual tour down south again, with shows throughout Tassie, VIC, NSW and QLD. Thanks to all who've helped us with this. We are very pleased to have Ricky Shipp on board again playing lead guitar, as well as my uncle Jim Strohfeld, who is a great old bush balladeer in his own right. He will be strapping on the bass for this trip as well as performing his own songs. Back in 1995 Jim brought me down to my first Tamworth Festival and I really have him to thank for starting me off in the country music game. Normally my wife Lyn would be playing bass and although she'll be on tour, I think her hands will be full looking after "The Brown Bombers" Casey & Bill.

Later on in the year we are planning to head off with Keith Jamieson and Alisha Smith on an around Australia tour. I am really looking forward to this trip as we'll be showing in a lot of towns where I've never been before. All details will be on the web site and I hope to see some of you along the way.

Until then, stay safe and I'll see you when I'm looking at you.
Brownie.

BALLADEERS BULLETIN - July 2009
Well 2009 has been full of ups and downs for me so far. Tamworth Festival in January was again a great time, thankyou to all who attended our gigs at the Frog and Toad. It is always a pleasure to do gigs with my old mates Dean Perrett and Tracy Coster. Congratulations to Tracy on her new album. We have given it a fair old spin over the past 6 months and reckon it's a top little album. Lyn loves "I'm not 40".

After Tamworth, Brian Young, Ricky Shipp, Lyn, the boys and I spent 9 weeks on the road, touring around SA, Vic and NSW. We managed to avoid the bush fires but temps varied from 49.9 degrees in the shade in Swan Hill to nearly freezing in Cooma. Thank God for air conditioning.

It was a pleasure to have Youngie with us this year. He has a lifetime of stories to tell and it was just great to put in some time with him again. I'd like to take this opportunity to thank everyone who helped us on the tour, especially all the baby sitters! We couldn't have done it without you. It was a great success and hopefully we'll do it all again next year.

We arrived home at the end of March to the news that my brother Graham had deteriorated considerably from a brain tumour which he'd suffered from since 2005. Unfortunately we lost him on May 1st . I was privileged to spend the last month with him and his family. I have lost a great mate and the world has lost a great man. I miss him.
I was unable to attend the Katherine Country Music Muster as planned but Ernie Constance and I were fortunate enough to win "NT Song of the Year" with " The Long Haul". You could have knocked me over with a feather when I found out. Lyn and I attended the first "Bouldy Bush Ballad Bash" at the end of May. I think it was a great weekend, a good venue and a great crowd and I'm sure it will continue for years to come. I've got a few gigs lined up for the rest of the year but I think I'll have to get the old Mack fired up soon.

See you when I'm lookin' at you,

Jeff Brown.

Brian Young, Jeff with William, Lyn with Casey and Ricky Shipp
at our last show of the tour in Warwick.

JANUARY 2009
Well 2008 has just flown by. It's hard to believe it's Tamworth Festival again. The twins William Jeffrey and Casey James were safely delivered by Caesarian section at Toowoomba Base Hospital on the 8th September last year. All the doctors and nurses involved were terrific and couldn't have done more for us. A sincere thankyou to all of you who sent well wishes and gifts, your generosity blew us both away.

The following few months were a blur and a steep learning curve for both of us. I had to be around to help Lyn during that time and unfortunately missed Mildura and Widgee Festivals.

I enjoyed Nanango Festival again though, it was a great weekend, congratulations to the organisers.

The boys attended their first live show (in the outside world) at Narrabri and their first Festival in Leeton in early November last year. They travelled very well and coped with the motel rooms etc in their stride, (sort of). It 's just as well, they're going to be doing it for a few years to come.

We will be doing five shows at the Frog and Toad Function Centre during this year's Tamworth Festival, including one with Dean Perrett and another with Tracy Coster. Lyn and I are then heading off with Brian Young and Ricky Shipp for a tour of Victoria, SA and NSW for a couple of months.

See the Gig Guide or the Web Site for full details. Hopefully we will catch up with some of you then.

Enjoy the Festival and I'll see you when I'm lookin' at you.

Jeff and Lyn Brown.

MEDIA RELEASE
Golden Guitar Winner Jeff Brown releases new truck album,
"The Open Road"
"The Open Road" is a collection of truck songs from one of Australia's most popular bush ballad singer/songwriters, Jeff Brown.

Jeff has taken 5 tracks from his previous albums and added 7 new songs including a new version of Poverty Liner. Jeff's goal with this album is to expose traditional Australian country ballads to a broader audience, therefore most songs on "The Open Road" are a little more contemporary without losing that true Australian ballad feel.

Jeff has co written 3 of the tracks and included songs from Slim Dusty, Kelly and Marion Dixon, Ian Quinn, Keith Jamieson and Les Lawson. Each song is sung from the heart of a man who has been involved in the transport industry for over 14 years.

Co produced with Marc Lea, "The Open Road" brings out the best in Jeff's singing and the talented musicians that back him on this album including Lawrie Minson, Ricky Shipp, Hughie Curtis and Clinton Ireland.

Jeff kicked off 2008 at the Annual Tamworth Country Music Festival as a finalist in the prestigious Golden Guitar Awards for the 4th time and his previous album, "Harvest Time Again" won the Stan Coster Memorial Bush Ballad Award for "Album of the Year" at Bungendore Festival in February.

Jeff wrapped up a 3 week tour of Tasmania in February and is just home from a successful 2 week tour of North Qld. with fellow Bush Balladeer Dean Perrett and legendary guitarist, Charley Boyter.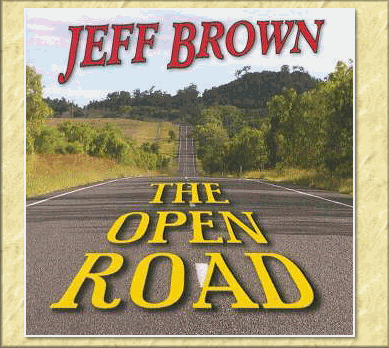 For Enquiries : Phone 0746 937 258 or 0429 623 796
Email: browndog76@harboursat.com.au